Apartment Safety Tips
Ensuring tenant safety in condos, apartments, and other residential buildings.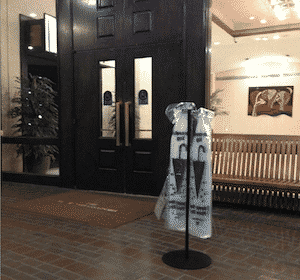 The discussion of apartment safety often takes a back seat to discussions on commercial safety, perhaps because visitor turnover and increased exposure to weather makes commercial spaces ripe with dangers for guests. Nevertheless, developers and property owners are wise to consider tenant safety when conceptualizing, building, and managing residential living spaces.
Pictured left is a wet umbrella bag stand positioned outside the Four Ambassadors Hotel and Residences in Miami, Florida. Refer to this image as you read the rest of this article, and consider how these simple products speak volumes about a building's commitment to providing superior comfort and safety for guests.
Why care about tenant safety?
It's projected that about 5 to 6 million families will become renters by 2013, according to statistics gathered by the National Association of Realtors. Some point to the mortgage crisis of 2008 as a main cause for this increasing population of renters. The lackluster recovery of the U.S. economy might likewise be keeping people renting, as fewer Americans have the liquidity to afford purchasing a new home.
As the population of renters continues to climb, the concern for tenant safety will likewise become an increasingly important issue for property owners.
Why property owners should invest in umbrella wrappers
Last month, our editorial team ranked residential apartment complexes as 1 of the top 5 places that benefit from wet umbrella wrappers. From property owners from liability to enhancing tenant living experience, here are the top 3 reasons property owners should make the cost effective leap toward safer entryways with these unique products.
1. Prevent liability for slip and fall accidents.
By law, property owners have the legal responsibility to keep premises safe for visitors. They must also take reasonable action to repair unsafe conditions, and they must warn guests of known dangers.
A slick floor surface that becomes slippery and dangerous when wet can sometimes constitute a known danger. Additionally, failure to clean liquid accumulation may constitute negligence, which can ultimately make the property owner responsible for any injuries that result.
To prevent liability, property owners must employ management teams, maintenance personnel, and safety products to keep things safe for all guests. Wet umbrella wrappers are a proactive and cost-effective way to do so, particularly during days of inclement weather.
2. Protect tenants from the development of mold and mildew.
Umbrella wrappers do more than just prevent slip and fall accidents. In keeping precipitation under control, these products also prevent standing liquid accumulation and the formation of mold and mildew. This is particularly important to implement in clubhouses and other common areas for which proper cleaning and upkeep is the responsibility of the management team.
3. Improve the building's image.
Safety is not the only benefit offered by wet umbrella wrappers. True, these units keep puddles from causing slips, falls, and hazardous mold formation. But they add value in another less obvious way: They build community image.
By providing automatic umbrella wrappers, property managers convey genuine concern for the well-being and comfort of their guests. Whether tenants, guests, or prospective renters, all can appreciate the kind and thoughtful gesture that these units display.
Learn More About Umbrella Wrappers for Residential Buildings
To learn more about umbrella stands, dispensers, and automatic wrappers for residential buildings, readers are invited to contact Umbrella Bagger Customer Services at 855-328-8100.